photo.circle Grantees 2020 Announcement – Round 2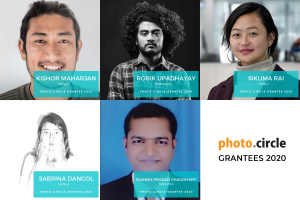 For the last two months Photo.Circle 2020 grantees have been reporting from all over Nepal. You have read stories from Jhapa by Parwat Protel @parwatportel7 , from Jumla by Krishnamaya Upadhayay @purnimashahi572020 , Padam Bhatta @padambhatta255 has been reporting from Kailali, Nitu Ghale @eastern_keen from Lalitpur, and Madhuri Mahato @mmhisimmy from Parsa. Check @nepalphotoproject grid for their work.
This week, we are thrilled to announce five more recipients of the grant. Meet Sikuma Rai @sikuma_rhiannon , Rakesh Chaudhari, Sabrina Dangol @sabrinadangol , Kishor Maharjan @kishor.maharjan , and Robik Upadhayay @aerawbic .
Congratulations and welcome aboard, storytellers!
#NepalPhotoProject
#pcgrant2020 #nepal #visualstorytelling #storytellers #photographers