Visualising Social Stories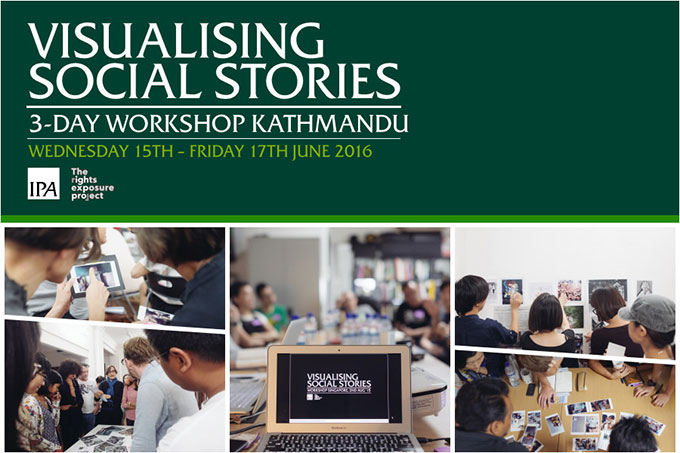 Visual storytelling is a powerful tool to increase understanding of social issues and to advocate for change. Whether you are interested in or already working on humanitarian, environmental or human rights issues, this workshop will provide the tools you need to maximize the impact of your work.
The three-day Visualising Social Stories (VSS) workshop in partnership with Invisible Photographer Asia and The Rights Exposure Project is aimed at both those who create images and those who use them in their work. Expert mentors will uses theory, case studies and practical exercises to lead you through the fundamentals of building powerful visual projects for positive social change.
DAY 1: The Role of Images in Social Change
Past & Present: Looking at the history of photography as a tool for social change, as well as studying contemporary usage, we will analyze the evolution of practice and what tools and approaches are available today.
Voice & Participation: Through examining the ethics and politics of photographing social stories, you will gain insight into how to avoid bad practice.
Strategy & Impact: You will learn simple yet effective tools for planning a project and maximizing its impact.
DAY 2: Creating a Campaign – Planning & Production
Participants will be divided into multi-disciplinary teams to plan and produce a short campaign on an issue of their choice. Teams will develop a strategy for the use of their images and work on the production of materials. Mentors will provide advice throughout the day.
DAY 3: Delivering a Campaign – Editing & Presentation
Teams will spend most of the day editing and preparing for the presentation of their projects. Mentors will guide the teams on how to pull their projects together.
Each team will present their projects and get feedback from other participants and the mentors.
WHO IS THIS WORKSHOP FOR?
NGO/civil society professionals including communications officers, program officers, photographers, image-makers, anyone interested in image-making and/or social issues.
WORKSHOP DETAILS
Wednesday, 15th June 2016        2:00pm – 6:00pm
Thursday, 16th June 2016           11:00am – 6:00pm
Friday, 17th June 2016                11:00am – 6:00pm
Workshop Venue: Yalamaya Kendra, Patan Dhoka
Instructors: Robert Godden & Kevin WY Lee
Fees: USD$165 + 13% VAT
*Workshop fees can be paid in Kathmandu directly to Photo Circle Pvt Ltd.
HOW TO REGISTER
Send us your CV at mail@photocircle.com.np. Registrations will be taken on first-come-first-serve basis. Maximum 20 participants.
***Registration deadline extended to 10 June 2016***
For more info/questions, please feel free to write to us! mail@photocircle.com.np