Sohrab Hura Workshop
2 - 6 September 2012 | Kathmandu, Nepal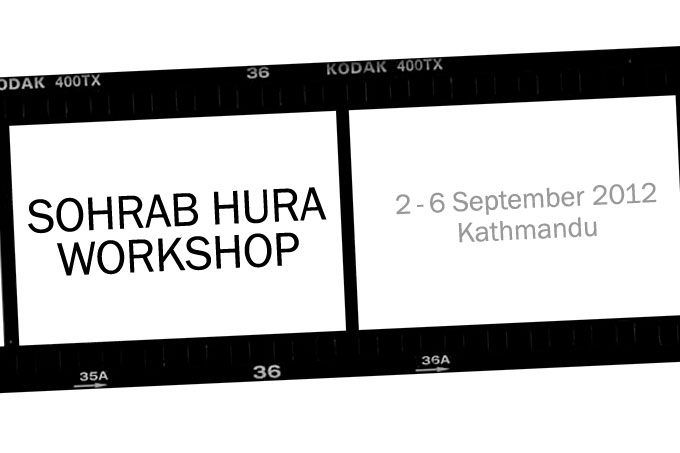 This 5-day workshop is designed for South Asian photographers who are already in the process of making long- term photography works. Participants will not shoot new work during the workshop. Instead participants will focus on how to work with a reasonably sized body of work that they have already created.
It is important for any photographer working on a long- term project to realize that beyond a certain point, his or her work can take many directions and forms.
Workshop facilitator Sohrab Hura will begin working with each participant in June. In the 3 months leading up to the workshop, Sohrab will regularly review works through an online platform such as Facebook.
The 5-day workshop in September will take place in Kathmandu, Nepal. Sohrab will show his entire work process. The next few days will be spent doing group reviews. At the end of the workshop the participants will be given assignments to present their work in informal exhibitions, books or projections. Works will be open to the public. The final showcase will be really exciting but throughout, the workshop will encourage participants to focus more on the process of experimenting and pushing personal limits than this final outcome.
ABOUT SOHRAB HURA
Sohrab Hura was born on 17th October 1981 in India. He grew up changing his ambitions from one exciting thing to another. He started with dreams of growing up and becoming a dog, which later turned to becoming a superhero and then to a veterinarian to a herpetologist to becoming a wild life filmmaker. Today he is a documentary photographer working on long-term projects, after having completed his Masters in Economics.
Sohrab has won Indian Press Photo Awards in 2006 and 2008. He participated in the Joop Swart Masterclass in 2009 and was listed as PDN's 30 emerging photographers in 2010. The same year, he received the China International Press Photography Award for his work Holi and the Magnum Foundation's Emergency Fund. He has exhibited work around the world and recently completed The Pilbara Project residency in Western Australia with an organization called FORM. 
WORKSHOP DETAILS
•    Workshop will take place from 2nd – 6th September, 2012 in Kathmandu, Nepal at photo.circle headquarters (See map). Final showcase will take place 9th on Sept. Participants should plan to arrive in Kathmandu by Sept 1st.
•    The workshop will be open to 10-12 participants.
•    Workshop fee is Nepali Rupees 8,000 (approx USD $100) + 13% VAT. (5% discount for my.photo.circle members. Please see http://my.photocircle.com.np for membership details.)
•    From 2nd – 6th September, workshop will meet everyday from 9 am to 6 pm- but participants should be prepared to put in longer hours.
•    Participants will begin working online with Sohrab one-on-one in June.
•    Workshop will be conducted in English.
ELIGIBILITY
•    Workshop is open to participants from Nepal, India, Bangladesh, Pakistan, Afghanistan, Maldives, Sri Lanka and Bhutan. Participants will be required to bear their own travel, accommodation, food and visa costs (if applicable). photo.circle is happy to recommend cheap accommodation options. Please email us if you have questions regarding travel to Kathmandu, etc.
•    Workshop is open to any photographer with an ongoing body of work irrespective of age, gender or genre of photography.
REQUIREMENTS
•    Participants will work on one story each.
•    Participants will be required to bring 4 x 6 prints of their work. Work without prints will not be reviewed.
•    Participants will be required to bring their own camera equipment and laptops.
•    Participants will be required to make their own prints for the final showcase. Participants are free to choose their own paper, printing, etc.
•    photo.circle reserves the right to publish (web and print) and showcase final workshop outcomes. Photographers will of course retain all copyrights.
•    Participants will be required to take care of their own meals during  the workshop.
APPLICATION
Application deadline is 5 pm, Thursday May 31st 2012
WORKSHOP SCHEDULE
May 31st        Application deadline
June 5th        Acceptances announced
June 10th      Online reviews and one-on-one consultations begin
Sept 1st          Sohrab and other participants arrive in Kathmandu
Sept 2nd        Workshop begins
Sept 6th         Workshop closes
Sept 9th         Final showcase opens
For questions/ concerns please feel free to contact us at learning@photocircle.com.np or call +977 9851014930 or +977 1 5013501