Memory & Identity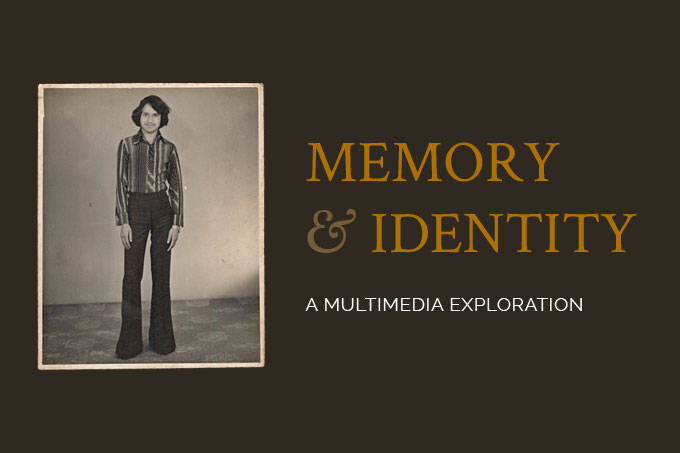 Old photographs remind us of our past and where we have come from and the silent stories that these photographs insinuate. Participants will reconsider notions of perception of memory and identity as they relate to history and photography's presumed veracity. To create work, participants will explore existing photo archives, their own family photographs, film footage and objects related to their families in order to create work related to their identity and perceived memories. The workshop's primary focus will be related to photography but participants can use this as a springboard for creating work in other media such as collages, stop motion animations, videos and installations, sound installations, oral histories, etc. Discussions and slide shows will be conducted in the mornings and students are expected to work on their projects in the afternoons. This workshop is for anyone- writers, musicians, housewives, photographers- who would like to explore the way memory can be shaped and reshaped.
ABOUT ANNU PALAKUNNATHU MATTHEW
Annu Palakunnathu Matthew's photo-based work deals with relooking at history and memory. Recent exhibitions include Sepia International, New York City, the RISD Museum, Newark Art Museum, 2009 Guangzhou Biennial of Photography, China, 2006 Noorderlicht Photo Festival in Netherlands, the 2005 Le Mois de la Photo à Montréal Photo Biennale in Canada and Gallery Z2O in Rome, Italy.
Among the list of grants recently supporting Matthew's work include a 2012 Fulbright- Nehru Fellowship, the John Gutmann Fellowship, MacColl Johnson Fellowship, Rhode Island State Council of the Arts Fellowship and the American Institute of Indian Studies Creative Arts fellowship. Her work can be found in the collection of the George Eastman House, Fogg Museum at Harvard, Museum of Fine Arts in Houston, Center for Creative Photography and the RISD Museum among others.
Annu Palakunnathu Matthew is Professor of Art (Photography) at the University of Rhode Island in Kingston, Rhode Island and is represented by Sepia EYE, New York City & Tasveer Gallery, India.
www.annumatthew.com
WORKSHOP DETAILS
Date: 3-6 December 2012
Time: 10am – 2pm
Venue: photo.circle HQ, Arun Thapa Chowk, Jhamsikhel, Kathmandu
Cost: Rs. 4000 per person
Language: All instruction will be in English.
The workshop is open to anyone from the Southasian region. Instruction will be in English. Price is NRs. 4000 for everyone but participants will have to bear their own travel, accommodation and meals if they are traveling from outside Nepal. We are happy to help you arrange for a guest house/ hostel, etc.
REQUIREMENTS
• Participants will be required to bring their own camera equipment and laptops.
• Participants may scan prints using scanning equipment at Nepal Picture Library.
• Participants will be required to make their own prints if necessary.
• photo.circle and Nepal Picture Library reserve the right to publish (web and print) and showcase final workshop outcomes. Works will of be copyrighted to original creators.
• Participants will be required to take care of their own meals during the workshop
APPLICATION
To apply, please send us the following at learning@photocircle.com.np with the subject line – Memory & Identity
• an updated CV
• a few lines telling us WHY you want to participate in this workshop
APPLICATION DEADLINE EXTENDED SATURDAY, NOVEMBER 24 2012
SCHEDULE
Day 1
Introduction and talk about the concept of memory and visualizing it.
How do you visualize memories?
Reference 
Archive Fever: Uses of the Document in Contemporary Art
Assignment 1: 
Exploring the personal
Bring in old photos of family, objects/any media of Nepali culture from previous decades that may not exist now. 
Students will scan objects. Think of ways that you can combine these scans with
–  Self-portrait scan
–  Other still photos
–  Historical documents
–  Text
–  Any media
 to make a statement/voice an opinion/get the viewer to rethink perceived notions.
Final image has to include an archival object or a scan of it.
Day 2
Critique day 1 assignment. Discuss thoughts, problems, questions that came up.
Discussion: Look at
 Priya Kambli, Shireen Neshat, Sawada, Millee, Morimura, Andre Serrano, Mohini Chandra.
Assignment 2: Collective memory and making the work more universal
In the first assignment we drew from personal memories. Now look at memories that others have also shared. For example, something that happened in your community, in your country, in the region and draw on those memories to create work. 
The work can use still images combined with any media, text. It cold also be stop motion/video, archival film/photos, excerpts from newpapers combined with photography. The options are limitless.
Day 3
Critique day 2. Discuss thoughts, problems, questions that came up.
Discussion – Digital and Memory
Do digital platforms change the way we remember?
 How does digital technology reshape archives?
How does social media reshape how we portray our identities?
 How will digital affect the histories in the future (Digital Humanities)
 Old stories, new delivery systems. 
Participants work in groups to search for work online that uses online resources as part of the artwork dealing with memory.
Day 4
Critique revised work from assignment 1 or 2, working towards the final piece.
Students can work on improving a previous idea or do something completely new based on feedback.
 Discuss thoughts, problems, questions that came up.
Day 5
Presentation of the final piece in the evening.
For further information please contact mail@photocircle.com.np or 9801065064 | 9851014930