International Storytelling Workshop 2020 – Nepal & Bangladesh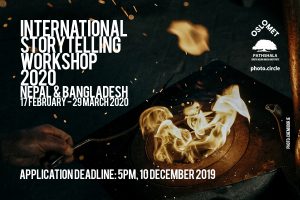 CALL FOR APPLICATIONS!
We're pleased to announce our upcoming annual International Storytelling Workshop 2020, for advanced level photography and photojournalism students/professionals.
Working photographers/photojournalists in early stages of their career (less than 5 years professional experience) are also welcome to apply. This exchange program is organized in collaboration with the Oslo Metropolitan University, Norway and Pathshala South Asian Media Academy, Bangladesh.
INTRODUCTION
This workshop is a rare opportunity for young Nepali photographers and photojournalists. It opens up a unique space for one to learn and practice as a young professional under a valued mentorship. The program consists of a pre-course and a workshop in Kathmandu, a month long fieldwork based in Nepal and the final editing workshop in Dhaka, Bangladesh. Participants will be expected to commit full-time and should expect to produce an in-depth photo project at the completion of the workshop. Participants will be working alongside other fellow students and mentors from Norway, Bangladesh and China.
SCHEDULE/IMPORTANT DATES
Dec 10, Tuesday: Application deadline
Dec 20, Friday: Announcement of selection
Jan 28 Tuesday – 31 Friday: Pre Course at photo.circle HQ
Feb 17 Monday – 21 Friday: Workshop with Philip Blenkinsop & Christopher Morris, in Kathmandu, Nepal
Feb 24 Monday – Mar 19 Thursday: Fieldwork in Nepal
Mar 20 – In Kathmandu; Preparation for departure to Dhaka, Bangladesh.
Mar 21 Saturday – 22 Sunday: Departure for Dhaka, Bangladesh.
Mar 23 Monday – 27 Friday: Editing Workshop at Pathshala South Asian Media Institute, Dhaka, Bangladesh
Mar 28 – 29: Return to Kathmandu
DETAILS
Participants selected for this workshop will be provided with
A modest stipend that should be able to cover all local accommodation, meals and local transport for the entire duration of the workshop in Nepal.
Participants will be required to own their own DSLR cameras, laptops and all other necessary equipments.
Participants will be required to bear their own subsidiary expenses eg; translators, extra travel, etc.
Participants should hold a valid Nepali passport.
A Kathmandu-Dhaka-Kathmandu flight ticket.
LEARNING GOALS
Develop storytelling and reportage skills for newspaper, magazine, internet and other media.
Learn how to work as a photographer/photojournalist in a more professional manner.
Learn about one's own country in more enriched way, its culture, religion, history, globalization, development theory and methods of fieldwork.
Learn how to reflect, analyze and edit one's own and other's work.
WORKSHOP STRUCTURE AND WORKING METHODS
Workshop will include lectures, individual assignments, group work, group reviews, independent study, fieldwork and editing.
PRE-COURSE: The pre-course in Kathmandu will include lectures and discussions about developing story ideas and working methodologies, an introduction to working in a foreign country and a cultural orientation of the foreign country, culture, etc. Participants will begin researching their story ideas and establishing contacts. At the completion of the pre course, participants will be required to submit their story ideas and work plan in English.
MAIN WORKSHOP: The workshop will be an intensive five-day exercise where participants will get a thorough introduction to storytelling, discuss different styles and shoot a variety of assignments. The workshop will take place in Kathmandu, Nepal along with Norwegian, Bangladeshi & Chinese participants. The tutors for this workshop will be acclaimed photographers and educators Philip Blenkinsop and Christopher Morris.
FIELDWORK: The fieldwork period is when the participants will shoot and produce their stories independently. Participants can either stay in Kathmandu or travel to different parts of Nepal.
EDITING WORKSHOP: The editing workshop consists of group and individual sessions where participants will edit their final story. This workshop will take place in Dhaka, Bangladesh. Workshop tutor/s: TBD.
At the completion of this fantastic experience, participants will have to submit their completed projects to photo.circle, along with a written report. Participants will retain copyrights to their work. photo.circle and project partners may publish/exhibit/share works produced.
HOW TO APPLY
A completed application form
Updated CV
A headshot of the applicant (1000 pixel longest side, 72 dpi)
A portfolio of 15-20 images that demonstrates your storytelling abilities (single images will not be accepted). Files should be 1000px on the longest side, 72 dpi, named as LASTNAME_01.jpg.
Please email your application to learning@photocircle.com.np
Application deadline 5pm, Tuesday, 10 December 2019.
For questions/concerns/confusions regarding the program and its application procedures, please do not hesitate to contact:
Sagar Chhetri
Education Program Coordinator, photo.circle
sagar@photocircle.com.np / learning@photocircle.com.np
WhatsApp: +977 980 838 02 19
ABOUT THE TUTORS
Philip Blenkinsop
In 1989, carrying two Leicas and a large cardboard box full of film, Blenkinsop arrives in Asia. He embraces its all-consuming chaos, the violence and the beauty that lurks beneath, the armed struggles being waged on forgotten fronts, on distant hilltops and in the remote jungles of South-East Asia; From East Timor to Nepal. His experiences define him and in time it becomes his world. With this, comes proximity to the people he documents, empathizing to the point of assimilating the injustices suffered.
"To photograph rage, I must feel that rage. To photograph loss, I must try to feel the weight of that loss as if it were my own to bear."
"A man of guerrillas and of resistances", (Herve Le Goff), and "one of the most essential photographers of his generation" (Christian Caujolle), Blenkinsop's uncompromising vision and commitment to the region has given birth to a contemporary body of work, at once remarkable and unparalleled.
A member of l'Agence VU from 1997 to 2007, Blenkinsop was one of the founding members of the prestigious Noor Photo Agency. He is an Honorary Fellow of Falmouth University in recognition of his services to photojournalism. In 2009, acclaimed film director David Bradbury released his 70-minute documentary on Blenkinsop and his work entitled "My Asian Heart." Monographs include 'The Cars That Ate Bangkok,' (White Lotus) and 'Extreme Asie' (Nathan/Delpire-Photopoche).
Major awards include the Felix H Man Prize for his work on the suppression of the Pro-Democracy Movement in Thailand, The Grand Prix Photo Jean-Louis Calderon for his reportage on ethnic cleansing in Borneo, The Nuit des Yeux d'Or, the Prix Scam 'Roger Pic' and Amnesty International's Award for Investigative Journalism for his expose of the 'Secret War in Laos' and three-time recipient of the Visa d'Or for his work on Laos, the Indian Ocean Earthquake and Tsunami and the Great Sichuan Earthquake.
Blenkinsop sits on the advisory boards of the Program for Narrative and Documentary Practice at The Institute for Global Leadership, Tufts University, USA and Photo Kathmandu in Nepal.
Christopher Morris
Christopher Morris was born in California in 1958 and began his career as a documentary conflict photographer working almost exclusively for TIME Magazine, where he has been on contract since 1990. He has been credited with redefining political coverage in America during his years working at the White House for TIME Magazine from 2000 until 2009.
Simultaneously to his career as a photojournalist, Morris has expanded his work into the fashion world. He has received various awards, including the Robert Capa Gold Medal, the Olivier Rebbot Award, the Journalism Award from the Overseas Press Club, two Infinity Awards for photojournalism from the International Center of Photography in New York, the PDN Look Fashion Editorial Award and numerous World Press Photo awards. Morris is a founding member of VII Agency based in New York.