Gender, Sexuality and Body Politics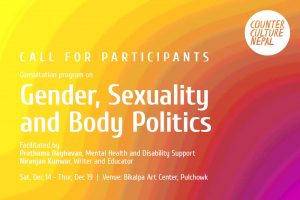 Counter Culture Nepal is pleased to host a six-day consultation program. The goal of the program is to deepen our understanding related to topics such as gender, sexuality and body politics and how these ideas are connected to social justice and violence. We are hoping to put together a diverse group of participants with the hope of sharing and learning from each other. One of the objectives of the program is to produce online content that challenges dominant discourses.
Facilitated by:
Prathama Raghavan, Mental Health and Disability Support
Niranjan Kunwar, Writer and Educator
Sat, Dec 14 – Thur, Dec 19
Venue: Bikalpa Art Center, Pulchowk
Nepali Sign Language Interpreters will be available.