Documentary Film Making Workshop by Raül Tidor
20 January - 3 February 2015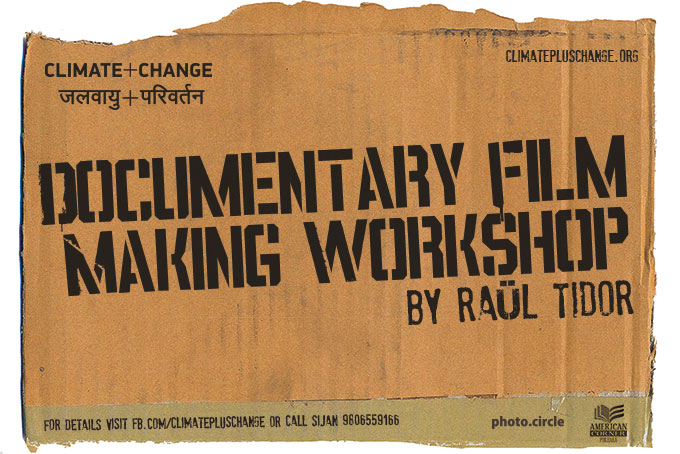 Documentaries tell us stories set in the reality around us or in distant territories. Nowadays, you don't need expensive equipment to create documentaries. All you need is a camera and a story to tell, and you are good to go.
Every person has immense potential to tell a good story through a documentary. But one has to learn how to make one, and that is exactly what this workshop is for.
This workshop might be a fruitful experience for:
– Aspiring film makers
– Photographers who want to transition into doing video
– People interested in communicating climate change and environment issues
– NGO staff who want to better their documentation and communication skills
– Journalists and journalism students who are interested in photography, video and multimedia
From 20 Jan – 3 Feb 2015, participants in Pokhara will have the opportunity to learn the basic tools of the audiovisual language including shots, angles, compositions, and its most important working processes – pre-production, script writing, shooting and editing. All of these are used in making documentaries with very low budgets – an approach also known as 'guerrilla film-making'.
The documentaries produced in this workshop are going to be a part of the Climate+Change outreach activities in Pokhara. Their themes and stories are going to be linked with climate change issues.
Climate+Change is an exhibition and forum for awareness and dialogue about change in the Hindu Kush Himalayan region among members of the public, including farmers and businessmen, students and teachers, scientists and policy makers. The first edition of Climate+Change was exhibited at the Nepal Art Council in Kathmandu, Nepal from 11 December 2013 to 13 April 2014. The second edition of Climate+Change is being exhibited at the International Mountain Museum in Pokhara, Nepal from September 2014 till September 2015. Climate+Change is organized by ICIMOD and GlacierWorks with the US Embassy, photo.circle, Srijanalaya and Nepal Mountaineering Association as partners.
DATES & SCHEDULE
Date
Time
Particulars
Tue, 20 Jan 2015
2:00 – 5:00 pm
Introduction. Storytelling and documentaries.
Project goals and methodology. The climate change elements and the 'human' approach.
Wed, 21 Jan 2015
2:00 – 5:00 pm
Audiovisual language basics: shots, angles and composition.
Thurs, 22 Jan 2015
2:00 – 5:00 pm
Audiovisual language basics part 2: voice over, music and sound fixing, lighting.
Fri, 23 Jan 2015
2:00 – 5:00 pm
From idea to script: Script models – how to develop it.Project ideas round-up. Group forming and assignment of responsibilitiesFilm screening
Sat, 24 Jan 2015
Off day
Sun, 25 Jan 2015
2:00 – 5:00 pm
Shooting and editing needs: b-roll, interviews, etc
Mon, 26 Jan 2015
2:00 – 5:00 pm
Script first drafts. Shooting pre-production.
Tue, 27 Jan 2015
2:00 – 5:00 pm
Script final drafts, editing pre-production
Wed, 28 Jan 2015
2:00 – 5:00 pm
Shooting of the documentaries
Thurs, 29 Jan 2015
2:00 – 5:00 pm
Shooting of the documentaries
Fri, 30 Jan 2015
2:00 – 5:00 pm
SCREENING of a documentary (from the best of previous selection)
Final script and meeting with the editor
Sat, 31 Jan 2015
Off day
Sun, 1 Feb 2015
2:00 – 5:00 pm
Editing, pieces 1 and 2
Mon, 2 Feb 2015
2:00 – 5:00 pm
Editing, pieces 3 and 4
Tue, 3 Feb 2015
2:00 – 5:00 pm
Final touches to the pieces (if necessary)
Screening of the pieces at the venue
WORK METHODOLOGY AND OUTCOME
The workshop participants will work in groups (3 persons per group) to create four brief documentary pieces (each lasting from 3 to 5 minutes).
These pieces will try to connect human experiences set in Pokhara with four basic elements of nature that are suffering the consequences of climate change: air, water (too much), water (too little) and ice/earth.
All participants are going have a chance to 'pitch' and propose their documentary idea – a story related to these four elements. Once the stories are chosen, the participants will choose what responsibility they would like to take up: content, image or production (as real documentary crews do). Finally, they will make the documentaries and we will screen it.
VENUE
American Corner Pokhara, Pokhara Public Library, Mahendra Pul
REQUIREMENTS
The most important requirement is commitment to the workshop, and that comes from strong interest in visual storytelling and creativity. No previous experience or audiovisual studies are required – just an interest to learn.
You can shoot for the workshop with any digital camera you have, including compact cameras that shoot video, DSLR cameras and phone cameras. If you have extra equipment like sound equipment, lenses, tripods – you are welcome to bring them but it is not mandatory.
FEES
Fee for full 2 week workshop is Rs 3000 per participant.
*This does not include meals, transport and local accommodation. Participants from outside Pokhara will need to bear these costs themselves however we are happy to help you find affordable hotels or homestays in Pokhara.

APPLICATION
To apply, interested participants should fill in an Application Form and email it to info@climatepluschange.org. Application deadline: 12 January 2015
ABOUT THE TUTOR
Raül Tidor Olloqui is a creative director, scriptwriter and content creator based in Barcelona. He holds BA in AudioVisual Medias, Master in Visual design for TV, Cinema and Theater and Master in Creative Documentaries. His recent works include tv programs, documentaries, street art workshops, animated series, ad campaigns, etc
 For further information, please contact Sijan Shrestha 9806559166