The Public Life of Women – A Feminist Memory Project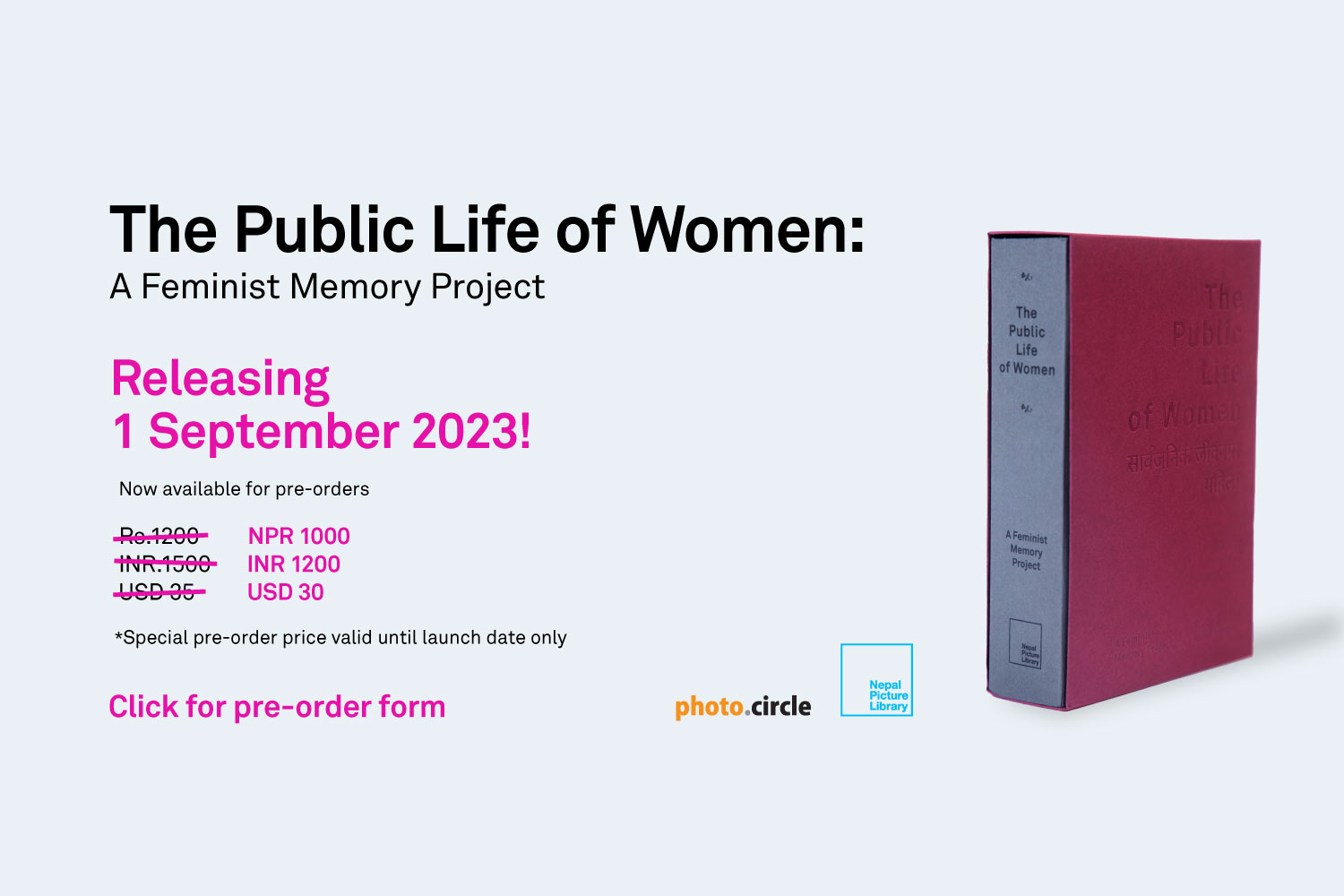 We are absolutely thrilled to announce the forthcoming release of "The Public Life of Women – A Feminist Memory Project" in its long-awaited publication form. This endeavor has entailed five years of research resulting in this labour of love.
Please SAVE THE DATE and join us for the release event of The Public Life of Women – A Feminist Memory Project on **1 September 2023** at the Staff College, Jawalakhel! Detailed program information to follow soon.
Since 2018, Nepal Picture Library has been collecting photographs and other archival materials with the objective of creating an open visual repository of feminist experiences in Nepal. The Public Life of Women, originally curated as an exhibition, showcases selections from this archive.
We are also now inviting pre-orders at a discounted rate until the launch date. For pre-order information click here.
If you are a bookstore and wish to stock this and other photo.circle books, kindly contact us at mail@photocircle.com.np to discuss discounts and shipping.
Curators: Diwas Raja Kc @diwasraja ; NayanTara Gurung Kakshapati
Design: Valentina Abenavoli @valentina.abenavoli
Nepali translations: Prawin Adhikari
English copy-editing: Alston D'Silva @alstonabout
Nepali copy-editing: Rajendra Maharjan
Organisation: Nepal Picture Library
Production: Shikhar Bhattarai @shikharbhattarai ; Biraj Maharjan @jarib97
Research Design: Diwas Raja Kc
Research Coordinators: Bunu Dhungana; Yutsha Dahal @yuts.ha ; Muna Gurung @munatuna
Researchers: Agastaya Thapa; Nisha Rai; Nikita Tripathi; Amita Sharma; Hikmat Nepali; Madhu Shahi; Manika Jha; Nishu Joshi; Parwat Portel; Renuka Giri; Sabita Pandey; Sabitri Gautam; Shikha Kiran; Sita Mademba; Sarita Thapa
Printed and bound in New Delhi, India by Naveen Printers
This publication was made possible by a grant from Foundation for a Just Society.