Postcards and beyond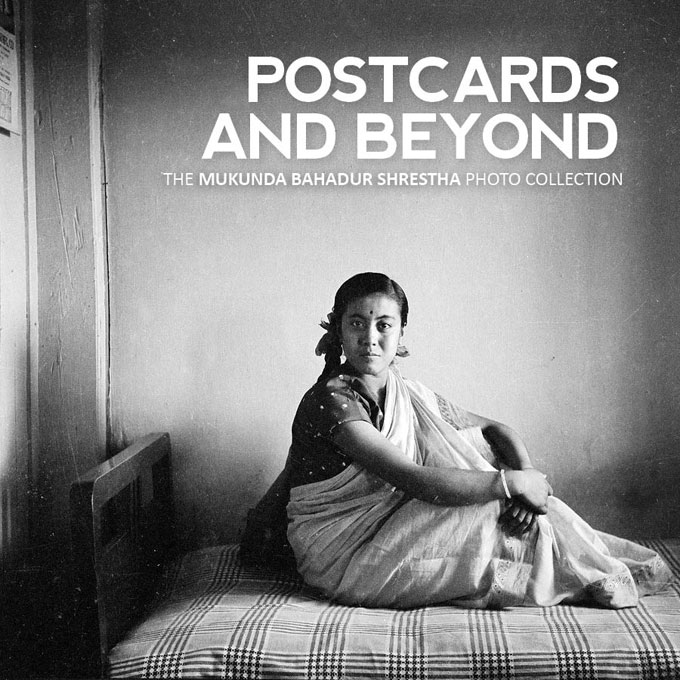 POSTCARDS AND BEYOND is an exhibition featuring the works of Mukunda Bahadur Shrestha, a Patan-based photographer who dedicated more than 25 years of his life to photography. Mukunda ji spent the 70's and 80's travelling across Nepal, photographing mountains, culture and people. His photographs introduced Nepal to the world. Since early 2011 NEPAL PICTURE LIBRARY has digitized more than 11,000 of his slides and negatives.
The exhibition has been jointly curated by Nepal Picture Library and anthropologist ALBAN VON STOCKHAUSEN. "Personal historical photographic archives such as Shrestha's pose a dramatic task to the anthropology of tomorrow. In the future, scholars wishing to work on the cultural systems of vanished cultures will have to heavily rely on archives and other historical collections." says Alban.
11-20 AUGUST 2012
12 NOON – 7 PM
SIDDHARTHA ART GALLERY, BABER MAHAL REVISITED
THANK YOU
We would like to thank the following people for pre-purchasing photographs and supporting Nepal Picture Library.
Jagadish Tiwari, Justine Coulson, Thomas Bell, Anagha Neelakantan, Jan Brunson, Jyoti Upadhyay, James Sharrock, Frances Klatzel, Palistha Kakshapati, Jemima Sherpa, Alexis Ellicott, Mary O'Shea, James Sharrock, Muna Gurung, Philippe Martin, Kevin Wenzel, Anne-Sophie Le Beux, Axel Plathe, Scott Faiia,
Carlo Pandolfi and Francesco Goletti
Through the exhibition period, we have a series of talks discussing the importance and use of archives. We hope you can make it to some, if not all of these engaging events. The schedule is as below. Please do share it with friends and colleagues!
SCHEDULE OF TALKS
4-5 PM | SATURDAY, 11 AUGUST 2012
TIME CAPSULES OF KNOWLEDGE 
Photographic Archives – Treasure Boxes for Anthropology?
A talk by Alban von Stockhausen
Alban von Stockhausen is an author, anthropologist and photographer who has worked in several international projects on ethnographic images and photographic archives. He curated and co-curated several exhibitions on South Asian topics in different European museums and was awarded a PhD in Visual Anthropology by the University of Zurich, Switzerland. He worked in several international projects on ethnographic images and photographic archives. In this richly illustrated talk, Alban will discuss various ways of creatively using historic image materials for current anthropological research.
6-7 PM | SUNDAY, 12 AUGUST 2012
HISTORY THROUGH PHOTOGRAPHS 
The 1990 People's Movement as documented in "People Power"
A talk and presentation by Gopal Chitrakar
Gopal Chitrakar presents "People Power" a book he self published and dedicated "to those who have shed their lives in establishing democracy in Nepal." In his unique historical account, Chitrakar presents the different stages of the 1990 People's Movement, combining his photographs with interviews of pivotal actors who shaped the movement. In this talk, Chitrakar discusses the challenges of photographing the streets in 1990 and self-publishing the book "People Power".
Gopal Chitrakar worked as a Photojournalist for Gorkhapatra daily for 30 years. He moved on to work as Photo Editor for Kantipur Publications for the next 6 years. Throughout his career, Chitrakar was shooting for Reuters in Nepal. He also taught Communications at Ratna Rajya Campus in Kathmandu. Chitrakar retired from Reuters 2 years ago and now spends his time painting and playing golf.
6-7 PM | TUESDAY, 14 AUGUST 2012
AN ETHNOGRAPHIC ARCHIVE IN THE INTERNET AGE 
Reflections on 12 Years of the Digital Himalaya Project
A Talk by Mark Turin
In 2000, Digital Himalaya began as a strategy for collecting and protecting the products of historical ethnographic collections of maps, films, photographs and textual documents on or from the Himalayas–for posterity and for access by heritage communities. The project has now become a collaborative digital publishing environment, bringing a new collection online every month, with close to half a million web visitors since its establishment in 2000. In today's talk, I reflect on this extraordinary digital decade and imagine how the project might develop in the future.
Mark Turin is a linguist and anthropologist who has been working in Nepal since 1992. He holds joint appointments at the universities of Cambridge and Yale- writing on and teaching ethnolinguistics, visual anthropology, digital archives and fieldwork methodology. He also directs both the World Oral Literature Project and the Digital Himalaya Project. He is the author or coauthor of four books, the editor of five volumes and has published numerous articles and book chapters.
6-7 PM | MONDAY, 20 AUGUST 2012
PRESERVING COLLECTIVE MEMORY IN THE CRADLE OF MAOISM IN CHINA
A Talk by Jian Yi
Jian Yi is the founder of IFChina, a pioneering NGO that helps ordinary citizens who bear witness to the founding of a new China document their own lives through videography, theater, and photography. Provincial communities are losing collective memory as residents migrate to the coastal metropolises in search of work. Jian Yi believes that technology can help to preserve that memory, while stimulating a sense of civic engagement and strengthening shared values. He is currently based in Ji'an City, the cradle of the communist revolution and the major pilgrimage site for Maoists across China.