Living in the Mist by Kishor Sharma
It gives us great pleasure to invite you to the Book release and Exhibition opening of Living in the Mist, a poignant body of work by Kishor Sharma.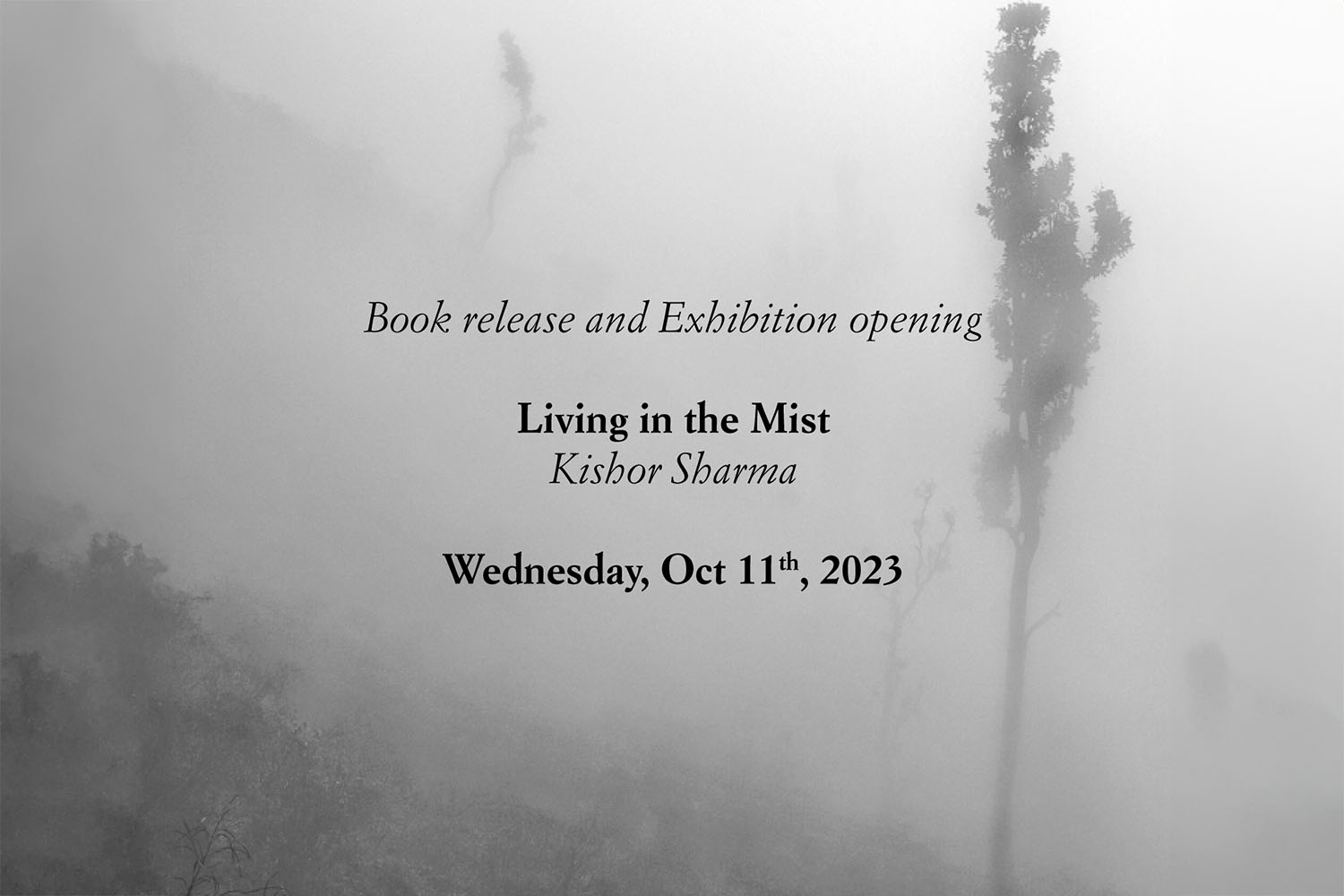 Wednesday, Oct 11th, 2023 
3:00 – 5:00pm | Yala Maya Kendra, Patan Dhoka 
Dhirendra Nalbo and NayanTara Gurung Kakshapati in conversation with Kishor Sharma. Conversation to be followed by the book launch. 
5:30pm | Patan House, Dhaugal 
Living in the Mist – Exhibition opening.
The exhibition will be on view until Nov 30th. Open every day from 11am – 7pm at Patan House, Dhaugal. Closed on Mondays. Kindly check our social media for closure on festival dates.
Book release and exhibition is free and open to the public. Please share widely! For access info and arrangements, please write to us at mail@photocircle.com.np
About the project:
Kishor Sharma has been visiting and photographing the Raute community since 2011. The Rautes are considered to be the last nomadic people of Nepal. They do not own land and have refused to accept citizenship documents offered by the state. Living in the Mist gives us a glimpse into their lives and their resistance towards being governed by a 'modern' world. It compels us to imagine the possibility of alternative and autonomous ways of living.
About the speakers:
Kishor Sharma is a Nepali documentary photographer, filmmaker, and writer whose photography, and films, composedly defend the nuanced simplicity of people, life, and their landscape. Sharma has extensive experience in documenting stories through photos and films, working with diverse communities throughout Asia. Sharma's works have been exhibited and published globally. Sharma is the author of 'Living in the Mist', a photobook on the last nomadic tribe of Nepal, The Rautes.
Dhirendra Nalbo, PhD is a faculty and co-founder of the Open Institute for Social Science, a liberal arts college based in Kathmandu. He also teaches at the Department of Conflict, Peace and Development Studies, Tribhuvan University, Kathmandu, and regular lecturer at the Nepal Army Command Staff College. His research includes the environment and peace, climate change and conflict, politics of ecology and methodological issues in knowledge production. He received his PhD from the Jimmy and Roslyn Carter School for Peace and Conflict Resolution, George Mason University, USA. His dissertation examined the linkage between community forests governance and peacebuilding in Myanmar's Kachin state.
NayanTara Gurung Kakshapati lives and works in Kathmandu, Nepal. She is the co-founder and artistic director of photo.circle, Nepal Picture Library and PhotoKTM – platforms and initiatives that nourish image-making, history-telling, and dialogic engagements with diverse publics. NayanTara is committed to creating possibilities for people who think, make, speak and organize in different ways to come together in "imperfect solidarity" to learn, question, disrupt, and resist but also work towards repair.
Book credits:
Photos, Text and Editing: Kishor Sharma
Design: Valentina Abenavoli
Translation: Prawin Adhikari
Copy Editing: Rajendra Maharjan (Nepali) and Sushrut Acharya (English)
Printing and Binding: Naveen Printers, New Delhi
Publisher: photo.circle
Exhibition credits:
Curatorial and Production team: Sagar Chhetri, Shikhar Bhattarai & Shristi Shrestha
Programs: NayanTara Gurung Kakshapati
Translation: Prawin Adhikari
Design: Nipun Meher
We look forward to seeing you on Wednesday!