photo.circle.showcase.62
Book launch | SUTRA by Rohan Thapa
SATURDAY 20 MAY 2017 | 4:30 – 6 pm
YALA MAYA KENDRA, PATAN DHOKA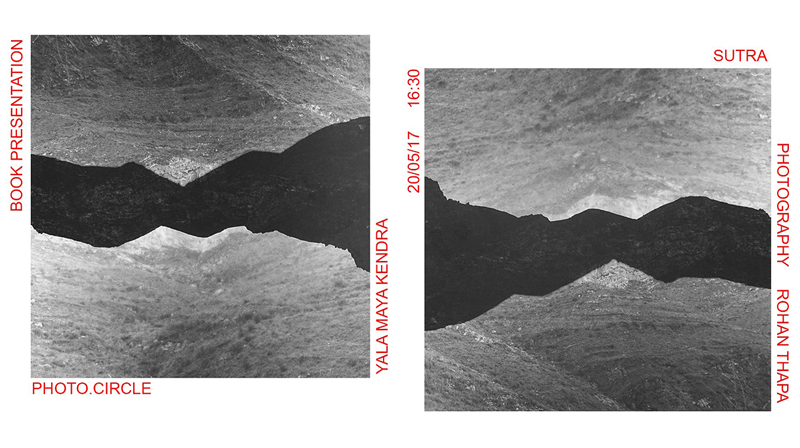 photo.circle proudly invites you to attend the launch of photographer Rohan Thapa's self published book SUTRA, a book that explores a unique philosophical discourse where the photographer/author has beautifully crafted his years long body of works into one solid form.
The event will comprise of a presentation by the photographer himself, where he will share his way of working. In addition, the dummy version of photo books produced during photo.circle's Photo Book 101 workshop with Akina Books which took place last February-March, will be presented.
About the author:
Rohan Thapa (b.1982) is a graduate of political science, and currently works as a photographer based in Spain. His works mainly focus on literary, social and political identities, with a strong emphasis on the natural environment.
About the book:
The title of the book is Sutra meaning 'string' or 'thread'. Using photography as a ritual Rohan Thapa braids several discourses in one. The series that are intertwined try to make us escape through the hollows of the trees, to record in a blank sheet the contamination of the air by a multinational, to capture the visual fragility of the community and continue the mountain to the interior of the person. Sutra is a book that shares a visual and tactile experience with consumption, blindness and nature.
Book 'SUTRA' binds-
SUNYA- the space in nature
EU.PNEA- air pollution by a multinational corporation
IN VISIBLE- portraits regarding visual dependency
PULSE- identity mirrored through mountains
Photographs: Rohan Thapa
Design: Eloi Gimeno
Guru: Julian Baron
Self Published
120 pages
Price: Rs. 2800 only
www.rohansthapa.com