Kathmandu '20 – a slideshow evening at Yala Maya Kendra
We are excited to invite you to a slideshow presentation featuring the outcomes of the start-up workshop of the International Storytelling Workshop 2020.
18 photography students from Norway, China, Bangladesh and Nepal spent a week in Kathmandu with the acclaimed photographers and educators Philip Blenkinsop & Christopher Morris. As part of the curriculum, the students have been going around seeing the streets of Kathmandu through their cameras for this special workshop.
In addition to the presentation from the students, the mentors, Philip Blenkinsop & Christopher Morris, will present a special selection of their works.
Venue: Yala Maya Kendra, Patan Dhoka
Date: 21 Feb 2020
Time: 7:00 PM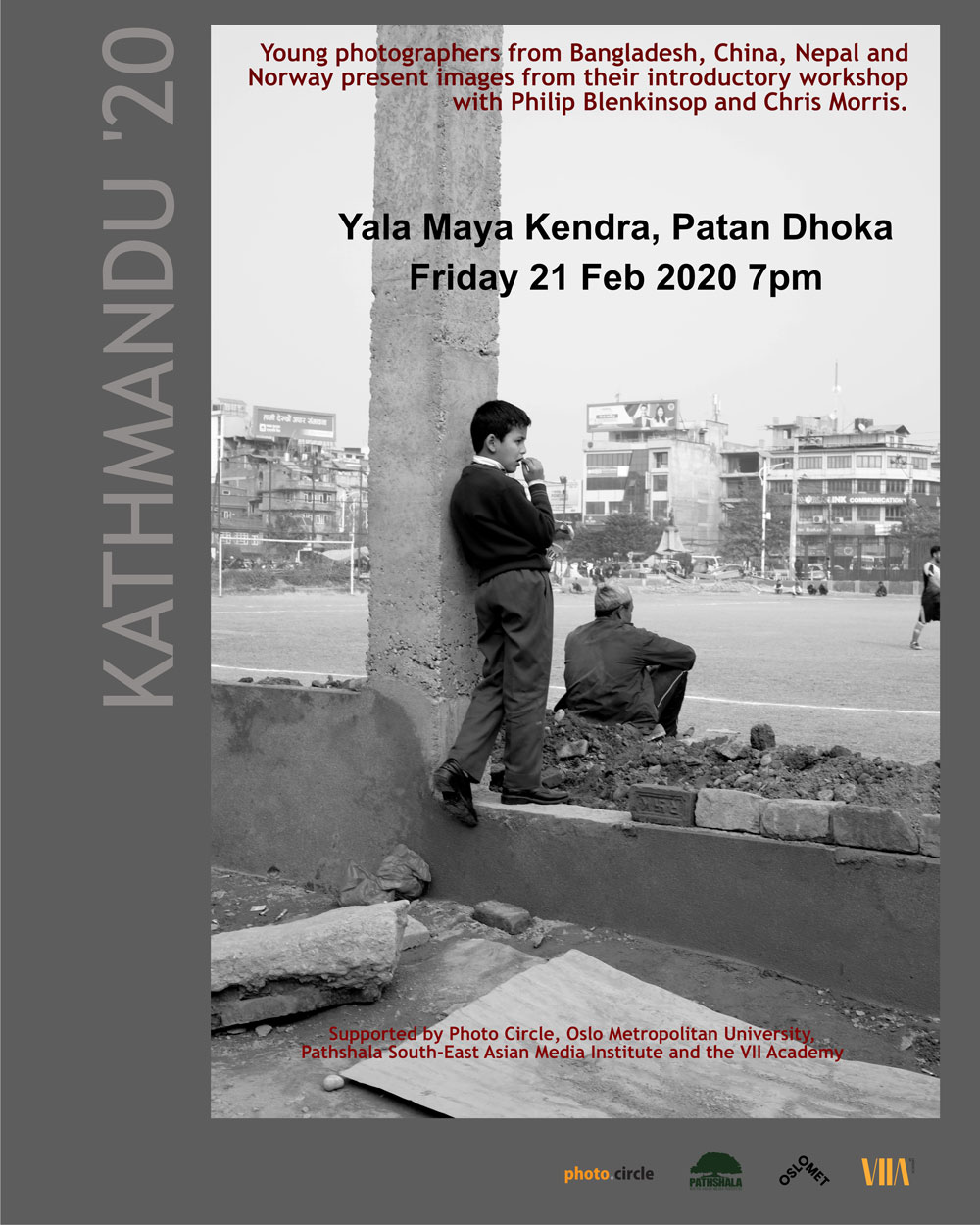 About the exchange program:
International Storytelling Workshop 2020 is 40 days advance visual storytelling workshop for advanced level photography and photojournalism students/professionals. This exchange program is divided into 3 parts – 5-days start-up photography workshop with Philip B. and Christopher M., Fieldwork, and the editing workshop in Dhaka, Bangladesh.
This exchange program is organized in collaboration with the Oslo Metropolitan University – Norway, Pathshala South Asian Media Academy – Bangladesh, VII Academy – USA, and, photo. circle – Nepal.
List of students featured in the slideshow:
– Guligo Jia
– Pluto Liu
– Istiak Karim
– Dewan Wahed Mahmud
– Faysal Zaman
– MST. Sumi Khatun
– Camilla Alexandra Lie
– Jan Langhaug
– Mina Brynildsen Ræge
– Nanna Aanes Wolden
– Tobias Willumstad Myrland
– Tuva Maria Åserud
– Nima Taheri
– Ola Vogstad Vatn
– Kishor Maharjan
– Sikuma Rai
– Mahendra Khadka
– Robik Upadhayay
About presenting photographers:
Christopher Morris
Christopher Morris was born in California in 1958 and began his career as a documentary conflict photographer working almost exclusively for TIME Magazine, where he has been on contract since 1990. He has been credited with redefining political coverage in America during his years working at the White House for TIME Magazine from 2000 until 2009.
Simultaneously to his career as a photojournalist, Morris has expanded his work into the fashion world. He has received various awards, including the Robert Capa Gold Medal, the Olivier Rebbot Award, the Journalism Award from the Overseas Press Club, two Infinity Awards for photojournalism from the International Center of Photography in New York, the PDN Look Fashion Editorial Award and numerous World Press Photo awards. Morris is a founding member of VII Agency based in New York.
viiphoto.com/authors/christopher-morris
Philip Blenkinsop
In 1989, carrying two Leica and a large cardboard box full of film, Blenkinsop arrives in Asia. He embraces its all-consuming chaos, the violence and the beauty that lurks beneath, the armed struggles being waged on forgotten fronts, on distant hilltops and in the remote jungles of South-East Asia; From East Timor to Nepal. His experiences define him and in time it becomes his world. With this, comes proximity to the people he documents, empathizing to the point of assimilating the injustices suffered.
"To photograph rage, I must feel that rage. To photograph loss, I must try to feel the weight of that loss as if it were my own to bear."
"A man of guerrillas and of resistances", (Herve Le Goff), and "one of the most essential photographers of his generation" (Christian Caujolle), Blenkinsop's uncompromising vision and commitment to the region has given birth to a contemporary body of work, at once remarkable and unparalleled.
A member of l'agency VU from 1997 to 2007, Blenkinsop was one of the founding members of the prestigious Noor Photo Agency. He is an Honorary Fellow of Falmouth University in recognition of his services to photojournalism. In 2009, acclaimed film director David Bradbury released his 70-minute documentary on Blenkinsop and his work entitled "My Asian Heart." Monographs include 'The Cars That Ate Bangkok,' (White Lotus) and 'Extreme Asie' (Nathan/Delpire-Photopoche).
Major awards include the Felix H Man Prize for his work on the suppression of the Pro-Democracy Movement in Thailand, The Grand Prix Photo Jean-Louis Calderon for his reportage on ethnic cleansing in Borneo, The Nuit des Yeux d'Or, the Prix Scam 'Roger Pic' and Amnesty International's Award for Investigative Journalism for his expose of the 'Secret War in Laos' and three-time recipient of the Visa d'Or for his work on Laos, the Indian Ocean Earthquake and Tsunami and the Great Sichuan Earthquake.
Blenkinsop sits on the advisory boards of the Program for Narrative and Documentary Practice at The Institute for Global Leadership, Tufts University, USA and Photo Kathmandu in Nepal.