Info Session – Visiting Artist Fellowship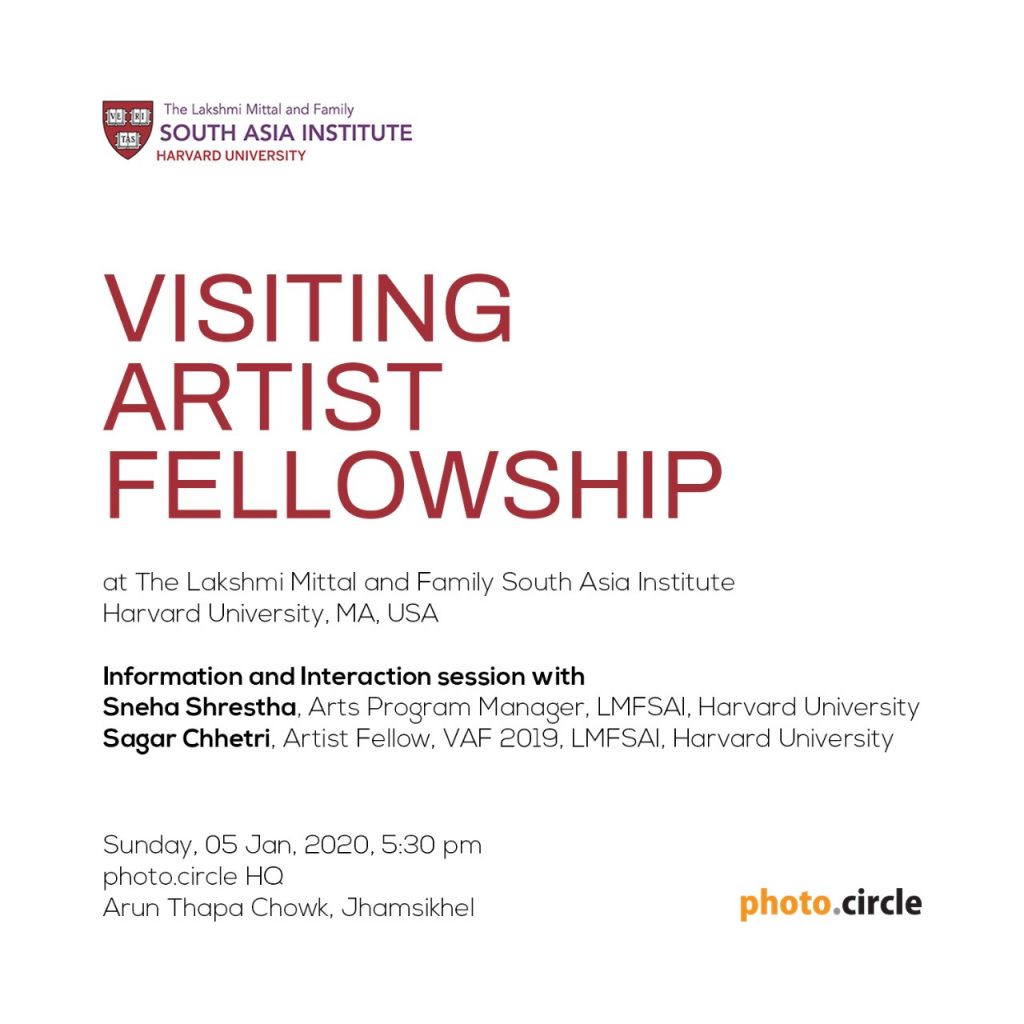 photo.circle invites you to an info session on the Visiting Artist Fellowship at The Lakshmi Mittal and Family South Asia Institute, Harvard University, Massachusetts, USA. Sneha Shrestha, and Arts Program Manager at the Mittal institute will be in conversation with Sagar Chhetri, Photographer and recent Visiting Artist Fellow at the Mittal Institute.
The event will be an opportunity to learn more about the program and possible opportunities for Nepali artists. Come with your questions!
About the fellowship:
The Lakshmi Mittal and Family South Asia Institute's Visiting Artist Fellowship (VAF) is an eight-week research fellowship at Harvard that connects artists from South Asia to Harvard's intellectual resources. The Fellowship provides a platform to conduct independent research that explores critical issues in South Asia through the lens of art and design.
The program welcomes applications from mid-career visual artists in South Asia to come to Harvard University to participate in interdisciplinary discourse with students and faculty on global issues relevant to South Asia. Four artists are selected each academic year for the VAF at Harvard University in Cambridge, MA. The review committee will consider the applicants' experience, as well as the quality of work and written statements.
https://mittalsouthasiainstitute.harvard.edu/visiting-artist-program/
About our guests:
Sneha Shrestha is an artist, educator and social entrepreneur from Kathmandu, Nepal. She established Nepal's first Children's Art Museum to provide a creative space where children and youth can develop 21st-century skills through project-based art experiences. Before working on the Children's Art Museum of Nepal, Sneha worked at Artists for Humanity which played a huge role in inspiring her to dedicate her life to art, education and innovative social impact. Sneha recently graduated from Harvard Graduate School of Education with a Master's degree in Education. During her time at Harvard, Sneha explored the effective leadership in education and the intersections of creativity, learning, and technology.
Sneha Shrestha is also known as IMAGINE in the art world and has established herself as Nepali street artist meshing the Nepali alphabet and the Boston graffiti scene. Imagine has redefined the Nepali alphabet and given it a new identity through graffiti. Being the first to mesh American Graffiti with Nepali Alphabets, she has shown her work in several exhibitions, commissioned works and public walls around the world including Boston, San Francisco, Bali, Istanbul, Geneva and Copenhagen. Her works can be described as thoughtful yet irreverent pieces, marrying the beauty of an elegant script with the mindful mantras she often incorporates into her canvases. When not painting these intricate pieces, Sneha paints bold larger than life walls.
www.snehashrestha.com
Sagar Chhetri is a documentary photographer based in Kathmandu. He is interested in socio-political stories. In 2016 his work 'Eclipse' was recognized in Nepal's Photojournalism contest. In 2018 he became one of the recipients of the Magnum Foundation Fund. He is a program coordinator and curatorial assistant at Photo. Circle and Photo Kathmandu. He is a recent fellow at the Lakshmi Mittal and Family South Asia Institute, Harvard University.
He graduated from the International Photography Program at the Pathshala South Asian Media Institute, Bangladesh. He received a scholarship from the Danish ministry of education to earn a diploma in Photojournalism in the Danish School of Media and Journalism, Denmark.
www.sagarchhetri.com