photo.circle.showcase.67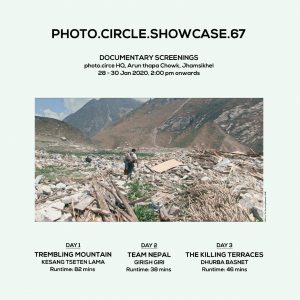 photo.circle is pleased to invite you on the screenings of acclaimed Nepali documentary films; Trembling Mountain by Kesang Tseten Lama, Team Nepal by Girish Giri and The Killing Terraces by Dhurba Basnet.
The schedule of the screening are as follows –
Tuesday, 28 January 2020
2:00 – 3:22
 Trembling Mountain, 
82 minutes, 2016
On April 25, 2015 Nepal was hit by a quake measuring 7.9 on the Richter Scale. Among the worst hit in Nepal's 2015 earthquake was the prime trekking destination of Langtang. A glacial collapse caused an avalanche of rock, ice and mud, resulting in an airblast, equal to half the force of the Hiroshima atom bomb. The 400-odd survivors, out of a community of 700, were evacuated from the highland, to a camp on the grounds of a Buddhist monastery in Kathmandu until their resettlement six months later. In showing the much-dwindled community's response to the disaster, until their resettlement a year later, the film reveals the transformation, profound and yet often taken for granted, that has been sweeping the Himalaya over the last decades. www.shunyatafilm.com
Direction: Kesang Tseten Lama
Camera: Bishnu Kalpit, Shyam Karki, Jyoti Simha, Siddhartha Shakya
Edit: Regina Bartschi, Kesang Tseten Lama
Sound: Shyam Karki, Bishnu Kalpit, Jyoti Simha, Siddhartha Shakya
Wednesday, 29 January 2020
2:00 – 2:38 
Team Nepal
, 38 minutes, 2004
A passionate team of footballers representing a youth club from Birgunj, Nepal, travels to play a football tournament in Sonpur, Bihar – India. In the experience of the Nepali footballers who travel, play and "live" in Bihar it is also highlighted the inter-regional relationship between India and Nepal, Kathmandu and Delhi.
Direction: Girish Giri
Camera: Pankaj Shrestha
Thursday, 30 January 2020
2:00 – 2:46
 The Killing Terraces,
 46 minutes, 2001
Since February 1996, the Communist Party of Nepal (Maoist) has been waging a violent struggle in a bid to capture state power in Nepal. From its humble beginnings in five districts, the insurgency has spread all over the country and has now become the foremost challenge facing the state. In early 2001, the filmmaker accompanied a group of journalists on a journey to Rolpa, Rukum and Jajarkot, three districts in far-western Nepal that make up the stronghold of the Maoists. Using footage shot over 26 days in the tough mountainous terrain of the region, the film attempts to understand the causes underlying the rise of the Maoists, and its effect on the local population.
Dir: Dhurba Basnet
All screenings will take place at photo.circle HQ, Arun Thapa Chowk, Jhamsikhel. Seating is limited so please arrive early to ensure seats. Seats will be on a first-come-first-serve basis. All screenings are free and open to the public.
See you there!