Remembering the Lost Sculptures of Kathmandu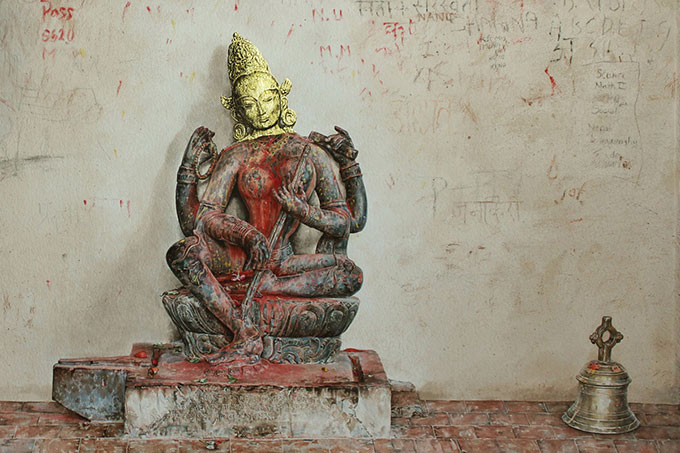 The Himalayan Art and Cultural Heritage Project and photo.circle cordially invite you to the inauguration of
Remembering the Lost Sculptures  of Kathmandu
an exhibition of paintings and research by Joy Lynn Davis
Friday, 10 April 2015 | 5:00 pm onwards
Nepal Art Council in Babar Mahal
Special guests:
His Excellency Dr. Urs Herren, Swiss Ambassador to Nepal
Mr. Bhesh Narayan Dahal, Director General of the Department of Archaeology
Dr. Dina Bangdel, Professor of Asian Art at Virginia Commonwealth University
Mr. Christian Manhart, UNESCO Representative to Nepal
The exhibition will run from 10 April to 22 May 2015
Gallery Hours: 11 am – 6 pm | Closed on Tuesdays
ABOUT THE PROJECT

Since the 1960s, thousands of Buddhist and Hindu sculptures have disappeared from the Kathmandu Valley's public temples, shrines, courtyards, fountains, and fields. Before they were stolen, nearly all were worshiped as living deities in their communities.
This art and research project by Joy Lynn Davis documents community response to the loss of those sculptures. Paintings, interviews, and photographic documentation weave together narratives of Kathmandu's sacred spaces, exploring how people respond when religious art objects—that exist, not as commodities, but as vital living community participants—are physically removed.
Paintings bridge the present and past states of these sacred spaces by realistically depicting the sites as they look presently and then visually "repatriating" the stolen sculptures back into those sites with 23 karat gold. Gold provides a visual language revealing which sculptures were stolen and references the commodification of the sacred. Accompanying each painting are historical photographs of the stolen sculptures, current photographs of the sites, information about the sculptures and any replicas, and interviews with local elders, devotees, and temple caretakers.
ABOUT THE ARTIST
Joy Lynn Davis is an artist and researcher from California, currently living in Lalitpur. She was an artist in residence at Kathmandu Contemporary Arts Centre (2012-2013) and Santa Fe Art Institute (2008, 2009). She received her BA in Art from the University of California Santa Barbara in 2002. In 2012, her work was sponsored by UNESCO and exhibited at Patan Museum. She is the founder of Himalayan Art and Cultural Heritage Project, a non-profit working to preserve and promote awareness for the artistic and cultural heritage of Nepal and other areas of the Himalayan region.
To learn more about the project: www.rememberingthelost.com
For direct link to the Press Pack: http://rememberingthelost.com/press/
PROGRAM SCHEDULE
Public Talk by Christian Manhart, UNESCO Representative to Nepal

Friday, 17th April 2015 | 4:00 – 5:00 pm
"UNESCO's struggle against art theft and illicit traffic of cultural property in Afghanistan, and its legal instruments and international conventions in this field"
Christian Manhart is an art historian and archaeologist. Joining UNESCO in 1987, he has worked on the conservation of heritage sites in Africa and Asia, particularly Afghanistan. Since July 2014 he is the Head of the UNESCO Office in Kathmandu, Nepal.
Guided Tour for Press by Joy Lynn Davis
Monday, 27th April 2015 | 11:00 am – 12:00 noon
The artist will give members of the press a special guided tour of the exhibition. This will also be an opportunity for members of the press to interact with the artist and discuss her art and research work.
Those interested to join the guided tour should email mail@photocircle.com.np
Film Night – Art Theft from Nepal
Wednesday, 6th May 2015 | 5:30 – 6:30 pm
A view at the local problem of the theft, illicit-trafficking, and trade of Nepal's art and cultural property featuring the premiere of a new short documentary (2015) directed by Jason Squire and Kamal Lama. Screening will be followed by a discussion with the film makers and artist.
Film Night – Art Theft Around the World
Wednesday, 13th May 2015 | 5:30 – 7:00 pm
A view at the international problem of the destruction, theft, illicit-trafficking, and trade of art featuring excerpts of Angkor for Sale: Art Theft in Cambodia (2013), The Rape of Europa (2006), and short films from Egypt, Palestine, Afghanistan, Iraq, and India.
Public Talk by Dina Bangdel, Professor of Asian Art and Director of Art History at Virginia Commonwealth University in Qatar

Thursday, 14th May 2015
4:00 – 5:30 pm
"Bringing the Gods Home: Art Theft and Documentation of Cultural Heritage"
Dr. Dina Bangdel specializes in South Asian and Himalayan art, and serves as the Director of Art History at Virginia Commonwealth University in Qatar.
Closing
Friday, 22nd May 2015 | 5:00 pm onwards
The exhibition closing will be marked by a celebration and discussions to continue the local campaign.

Additional events are currently being organized. For schedule updates please visit www.rememberingthelost.com