EVERYDAY EPIPHANIES: A Nepal Retrospective 1994-2012
31 January - 13 February 2013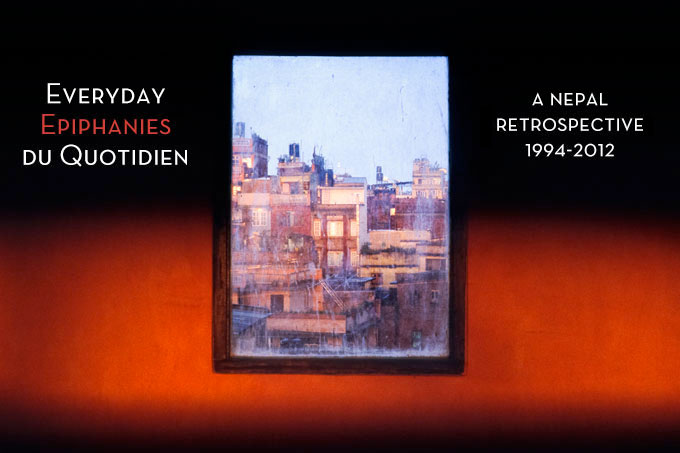 Photographs by Frédéric Lecloux / Vu' Agency
31 Jan – 13 Feb 2013
Alliance Française of Kathmandu, Banshi Ghat Marga, Teku Road, Tripureshwor
10am – 6pm, Sun- Fri
"As if there still weren't enough of reality, of that awful reality…" – Henri Michaux
War has killed, war has ended, enemies have talked, elections have taken place, reconstruction has begun, armies are to merge, the constitution has waited for years to exist and eventually will… Photography can be a medium to tell these stories.
These stories can be told through hard facts; this is the job of photojournalists. But these stories can also be told through what sits just next to the facts, or under them, or behind them, or who knows where else in their vicinity. Staring at the afterglow of reality, drifting away in its faint lights, it becomes possible to search in a new territory, the manifestations of another truth.
Photography then no longer is a medium of telling what is. It is a matter of gathering often insignificant pieces of a puzzle that one needs to accept not to wholly comprehend, and that tells how one sees what is. Photography then becomes a medium that creates a universe that is more acceptable than the reality.
Slowness. Hesitation. Following the wrong light if necessary. Ultimately an entire picture will emerge that illuminates the unknown.
About Frédéric Lecloux
Frédéric Lecloux was born in 1972 in Brussels. The slowness and obsessive poetry of his photographic writing, combining inside portraits, everyday objects and melancholic landscapes, resembles a therapeutic work of relief, be it on the routes of Nicolas Bouvier, in a profoundly mutating Nepal or trying to cope with his own ghosts in Belgium. A workshop teacher at the Rencontres Internationales de la Photographies in Arles and at photo.circle in Kathmandu in Nepal since 2010, he is also teaching multimedia creation at the Maison du Geste et de l'Image in Paris. He is the author of, among others, Katmandou 2058 (La Renaissance du Livre, 2003), Lentement vers l'Asie (Glénat, 2006), L'Usure du Monde and Le Simulacre du Printemps (Le Bec en l'Air, 2008). His latest book, Brumes à venir, again published by Le Bec en l'Air, was launched in October 2012.
In collaboration with Alliance Française of Kathmandu