Climate+Change
11 December 2013 - 13 April 2014
Happy December!
We are very pleased to let you know that a project we have been working on for the past several months has now come to life!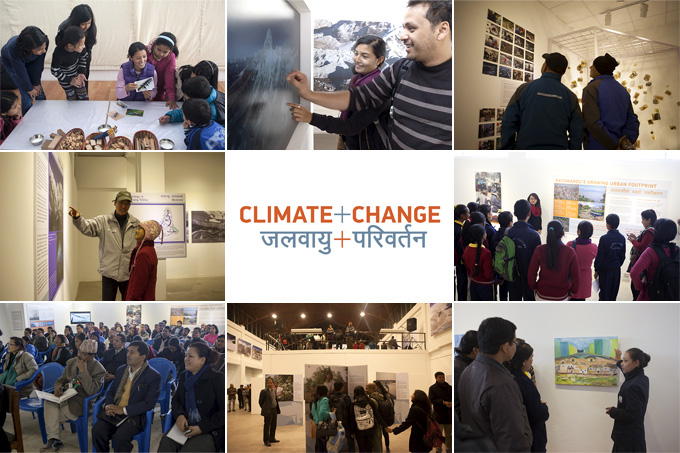 Climate+Change is a science exhibition with a focus on the Himalayas of Nepal, their glaciers, ecosystems and watersheds. The exhibition is based on a large selection of photographs and multimedia content with a strong emphasis on learning. It strives to promote dialogue among scientists, policy makers, young people and the general public.
The exhibition is being organized by ICIMOD and GlacierWorks. Partners include the US Embassy, Thinc Design, photo.circle, Nepal Tourism Board, Nepal Art Council and UNICEF.
CLIMATE+CHANGE
11 Dec 2013 to mid-April 2014
11am – 7pm. Closed on Tuesdays.
Nepal Art Council, Babar Mahal
Come visit. Bring your family. Learn about changes happening in this spectacular landscape we live in. Join the dialogue.
Highlights include:
· Film screenings every Thursday night at 5.30pm.
· Guided tours for schools, colleges, families, tourist groups, special interest groups. Please email register@climatepluschange.org to schedule.
· Regular workshops and learning activities for kids.
· Presentations, talks, discussions with scientists, change makers and young people.
· Interactive flights on the Microsoft touch screen
· Guided Climate+Change Yeti mountain flights. Please email info@climatepluschange.org for inquiries
Please like our facebook page for regular updates and announcements: www.facebook.com/climatepluschange
We look forward to seeing you at Climate+Change!